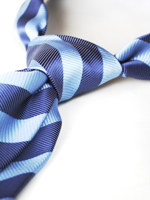 Tie a tie
Here are nine of the most classic tie knots, for every occasion.
We selected the most famous tie knot. With our website your can learn very quickly how to tie a tie, and of course, you can chose your favorite knot, there is 9 knots in this blog, so please, let your comments if you have any requests.
Before tying your tie, do up the top button of your shirt and lift up the collar. Once you have tied the tie, pull it up to hide both the top of the shirt and the top button. Stylish men create a hollow in their tie; just before tightening the knot, put your finger just under the knot and make a small fold just below the knot and then tighten the knot. If you do this well, the hollow will be centred. Fold down the collar, centre the knot and you're ready!
Enjoy this original way to learn veru quickly "how to tie a necktie" ! And please, let your comment on each knot.